Add About Box to your workbook.

LockXLS Runtime adds new tab to Excel ribbon, which has commands specific to your document. This tab may contain Register item if you are using Hardware Based Activation Code protection. Also it may contain About item, which displays information about your product, copyright, contact information, ...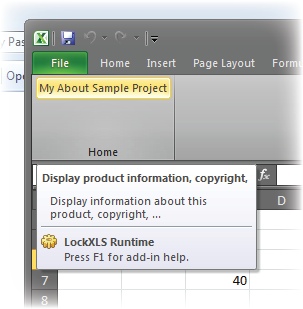 To add About Box you need to enable LockXLS Runtime menu in the options and select option to show the About Box item.
We suggest you to enter name of your product in the Caption of the LockXLS Runtime menu field. If this field is blank LockXLS Runtime will use default name LockXLS.
To complete the process you should create a macro in your workbook named xlDisplayAboutBox. This macro will be called by the ribbon\menu item and you should show the information you want in this macro.