How to order and activate LockXLS
LockXLS Application, published on our website, is limited with 30-days of trial period. To use LockXLS after evaluation you should purchase a license. If you need to extend your evaluation period - please contact our support: support@LockXLS.com.
All pricing information and instructions how to pay registration fee you can find on the Order page on our website.
After purchase you can activate LockXLS on your PC. Please, use Help | About LockXLS ... command on the LockXLS Ribbon: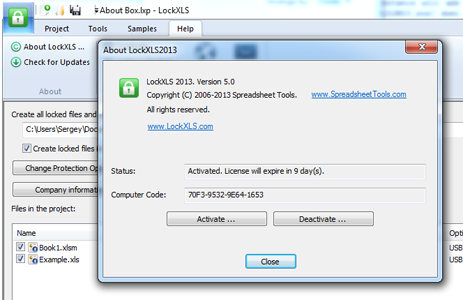 About LockXLS dialog shows version information, status of your license and allows to Activate\Deactivate the software. Use Activate... button to activate LockXLS.
First page explains how to place an order. You can skip it if you've already purchased LockXLS.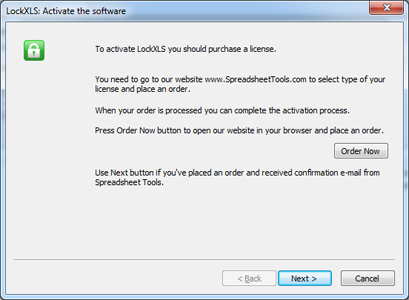 On the second page you should select activation option:
Activate on-line
Enter Activation Code received from Spreadsheet Tools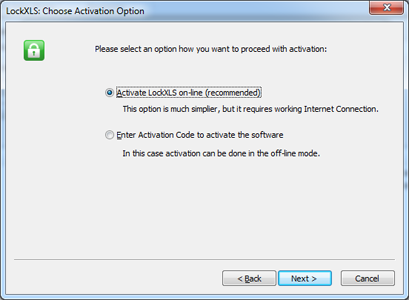 We recommend you to use first option - Activate LockXLS online. To use it you should only enter your e-mail and Share-It Order Ref#.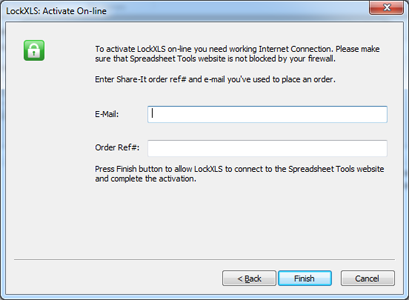 If you don't have working Internet connection, you can use second option - enter Activation code.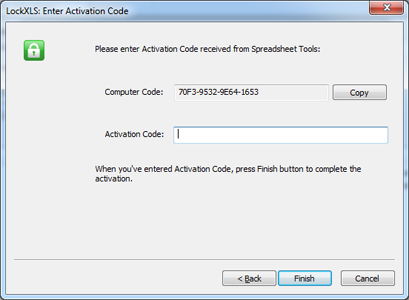 To get Activation Code you should do the following:
Login using your e-mail and Share-It order ref#
Select Activation page
Copy your Computer Code
Generate Activation Code
Paste it into LockXLS Activation Dialog
If you have any questions - please contact us using form on our site, or by e-mail support@LockXLS.com
See Also
Where I can see my LockXLS licenses