LockXLS Runtime Menu.
If your spreadsheet is locked with Hardware Based Activation Code protection option, customer should have ability to register it at any time. For this purpose LockXLS Runtime adds popup menu (Excel 2000/XP/2003) or tab to ribbon (Excel2007), with Register button.
Excel 2003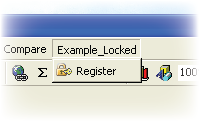 Excel 2007/2010/2013

Which caption is assigned to this menu? When tab(menu) is shown LockXLS assigns it a caption, equal to the name of this workbook. If your workbook has name "My Spreadsheet.xlsm", tab(menu) will have name "My Spreadsheet". You can customize this behaviour by entering your options in the Protection Settings | LockXLS Menu Options ...

Show LockXLS Menu with REGISTER button. By default this option is checked and menu is shown for locked workbook. If this menu is not needed for you - disable this option to hide menu.
You can implement your own activation interface using VBA macros. For example you can add your own menu top menu item or button on the worksheet, which asks user for an activation code. You can read more about this feature in this topic
Caption for the LockXLS Menu. If this field is empty - LockXLS Runtime uses name of workbook, if it is not empty - entered caption is shown for tab(menu). This may be name of your company or something else.
See Also: